Music, and Tequila in traditional Cantinas around Downtown Guadalajara.
Jitomate Tours has a special adventure that begins as the day ends… a tour around some classic Cantinas where you can drink a beer while sipping some shrimp soup, or maybe try some pork feet .
A cantina is a very particular type of  bar. Traditionally, cantinas were attended by men only, they would gather to drink and have some complimentary botanas (appetizers) offered with every drink. Maybe a tortita ahogada, a tostada de pata or pozole. In some rural cantinas, women are still not allowed. Some of them explicitly prohibit the entrance of women, dogs and men in police or military uniforms (called uniformados). These traditional traits are less strict now a days in Guadalajara. Jitomate Tours will take you explore some of the most traditional cantinas Downtown Guadalajara has to offer. Visit them, have a drink and taste some dishes that go along with the drinks you are having.
Cantinas have been a very iconic place in Mexican history. They were the space where Mariachi played while men had their tequilas. This is repeatedly showed in movies and traditional songs.
Estoy en el rincón de una cantina
oyendo una canción que yo pedí.
Me están sirviendo ahorita mi tequila.
Ya va mi pensamiento rumbo a ti.
Cantinas were also a very common scene in traditional mexican movies. We would see mexican heroes having beer and tequila. Singing to the Mariachi or discussing  whatever was on their minds. Cantinas were also visited by everyone. Government officials or the working class. All got together for a drink after work. This is still the case.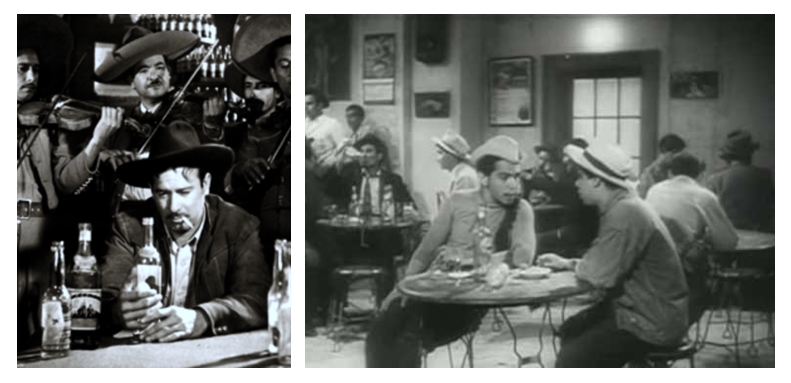 Even though you can find some modern and hip cantinas, we think you can't really beat 100 years of history. Some of these places have been around for many years and remain true to their origins. Most towns have one of these places downtown and Guadalajara isn't an exception. We want to take you discover these drinking spots and, while we are at it, experience night stands that will unveil a whole new dinning experience. Get ready to have some Tequila, Sangrita, Mezcal and even some local beers along the way.
See you there… and SALUD !