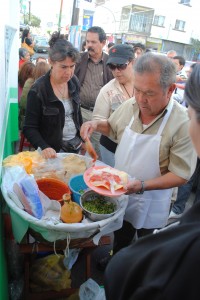 Santa Tere is a very traditional neighborhood in Guadalajara, and day to day, boils with commercial activity.
People from Guadalajara, usually go to Santa Tere looking for piñatas, toys, colorful fabrics, or huge shops were you can find all spices and grains you can imagine. However, one of the many hidden surprises Santa Tere has to offer, is the outstanding street and market food you can find all over the neighborhood.
Most of it happens around the Santa Tere's Temple and the streets leading to the small but popular farmer's market, Manuel Avila Camacho, located a few blocks away. Santa Tere offers an outstanding culinary experience that ranges from Tostadas de Cueritos prepared out of basket to some of the most popular restaurants in the city regularly attended by locals looking for  some nice traditional dishes. This is a great walking tour since its all within a single neighborhood !
This is a great walking tour with many options… Contact us and book !